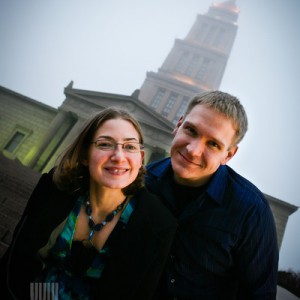 When Jonathan decided to give Kempo a try, three-and-a-half years ago, he had no idea how that one decision would change his life. At the time, he wasn't doing much in the way of fitness, and most of his time was spent at a desk job at the U.S. Patent and Trademark Office. He was overweight, out of shape and knew he needed to make a change.
It didn't take Jonathan long to reap benefits from his practice. He began building up muscle, shedding pounds and feeling better prepared for activities he enjoyed, like hiking. Within six months, he had joined the Instructor Academy, through which he began teaching other students. He quickly moved to a mid-rank belt, and even outside the dojo, he felt better about himself. This new confidence came through on his Match.com profile, where he soon met Rachel.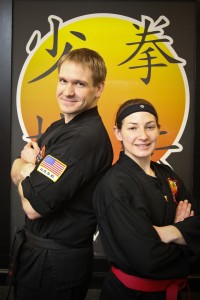 Six months after they began dating, Jonathan gave Rachel a package of Kempo classes. "I was dubious at first, because I already worked out on my own," says Rachel, who is in the military. "I was doing daily cardio and strength training, and I knew this would be another time commitment."
But Rachel gave it a shot, and – like her beau – quickly felt the benefits of her practice. "Kempo works so many muscles that you normally don't think about," she says. "And I love being able to go to the dojo and let off energy."
Jonathan, 30, and Rachel, 26, are now engaged to be married. Since he began Kempo, Jonathan has lost more than 70 pounds. He is a black belt and will be testing for his second degree black belt this July in China. Rachel (who also became an Academy instructor) is a brown belt and will be testing for her black belt at the same time. The couple is joining other Kempo students in an 11-day tour to China, which includes martial arts training at the Shaolin Temple in Henan Province.
"I was there a couple years ago," Jonathan says. "There is something about being at the Shaolin Temple, where it originated. The entire city is all about kung fu and martial arts." As for being tested for his next belt, Jonathan knows he could just as easily do it at home, but he says getting the certificate in China means major bragging rights.
"In terms of inspiration, there is no greater high than being able to train at the Shaolin Temple and seeing what's possible in terms of martial arts," he says. "It adds an extra level of excitement and encourages you to try harder and do more."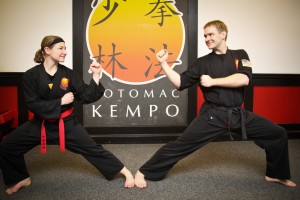 Jonathan and Rachel live in Arlington and train at two different dojos – he goes to Foxchase, and she trains at Old Towne. Although Kempo has certainly strengthened the couple's bond, working out in different locations allows them to establish their own identities, develop their own friendships and enjoy their own individual experiences.
In addition to weight loss and confidence-boosting, Jonathan says Kempo has also improved his balance and concentration. "It sounds like a small thing, but because there is a lot of repetition in Kempo, it increases your control and your ability to focus your body in a certain way," he says. As a teacher, Jonathan volunteers about nine hours a week, working with students as young as 6 and as old as 60 – and through this, he also has become more patient.
Now that he has moved up the ranks to a a black belt, he finds he has a whole new world of things to learn; understanding the basics, he says, simply unlocks the next stage of learning. He enjoys having moved beyond the strict curriculum, being more independent in his training and being able to improvise his own techniques. "It's almost like starting from the beginning," he says. "Now I take the basics and can learn how they all fit together to create effective techniques. The higher you get in your training, the more you realize how much you don't know. There is always another level."
Rachel says her flexibility and posture have improved immeasurably, and she has learned that her body is capable of doing more than she ever imagined. "My first test was my yellow belt test, and to this day that seems like the hardest test I ever had," she says. "It was about realizing that I had so much farther to go and so much more my body could do."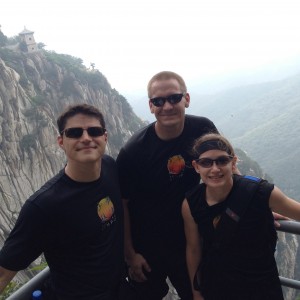 Although Rachel has reached the advanced ranks of Kempo, she knows she needs to improve her technique, so she can react in the right way when facing the unexpected. But she understands that even with many techniques to still learn, she has already gained much from the journey.
Both Jonathan and Rachel stress the importance of training with others, a common refrain from Kempo students. "You're only good as the people you train with," Jonathan says. "Others push you to do better."
Today, Rachel laughs when she thinks about her assessment of her fitness level before she began Kempo training. "Even if you think you're in shape, you don't know what you're missing into you get involved in martial arts," she says. "Then you get into it and wonder, 'How did I think I was in shape before?'"
2015 Update
Rachel and Jonathan are now married and have moved out of town, following their jobs. Before leaving Rachel became a Second Degree Black Belt and Jonathan became a Third Degree Black Belt. They have continued their training at a local studio and we hope to see them back someday.
Please follow us on. . .
. . . thank you!