It has been correctly said that real growth occurs outside of our comfort zone. We all have a squishy area that we enjoy — a soft sofa or a comfortable routine — that we fall back on when life presents us with challenges. However, sofas and routines don't allow us to grow and become more than we used to be. Moreover, in the absence of that growth life becomes dull, colorless, and we never live the potential that we possess.
The question then is how best to leave our comfort zone. Sometimes we do this alone; we get up in the morning, get dressed, put on our shoes, I walk out into the world in a way that we haven't before — and accomplish things that we haven't previously achieved. Sometimes, however, the step is — or at least feels — too big. For whatever we reason are unable to take that step ourselves without support. In those moments what we need more than anything else is a mentor.

We don't know what we can do until we try to do something we can't do. But that's an uncomfortable feeling and one that we instinctively avoid. It's also something that a good mentor — a good instructor — can help us through.
The mentoring model is simple: a mentor is someone who has already done what you are attempting to do, someone who has traversed the path already. They then must know you and be familiar with your capabilities, and then after careful and deliberate consideration, they conclude that you can succeed. So they look you in the eye, and they say, "you can do this." You believe them, and so you do.
I might be speaking in generalities, as I so often do. However, in this instance, I'm talking about my friend, and mentor Master Chip Townsend. Last year he told me that I could break a baseball bat, I believed him, and I did. This year he told me I could break two baseball bats, I believed him, and I did. I'm terrified of what he'll tell me I can do next year 🙂
All my respect and gratitude,
Chris Santillo, Shihan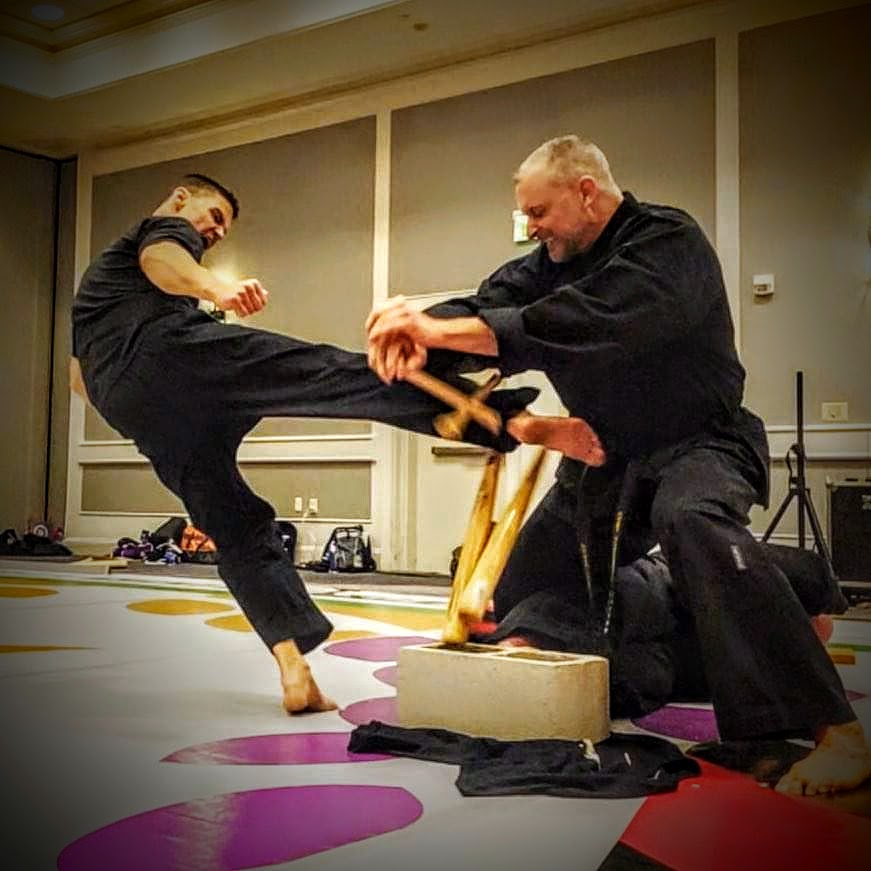 Please follow us on. . .
. . . thank you!