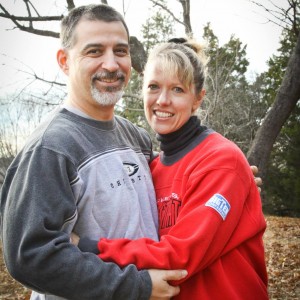 Kempo is sometimes compared to boot camp and occasionally likened to CrossFit. But it's not often that you hear "Kempo" in the same breath as "Law School."
Yet for Mike and Lisa Zarlenga, the correlation is clear.
"You go to law school for three years, but it's not until you graduate that you start learning the law," Mike says. "That's kind of how Kempo is – up until Black Belt, there's all this basic preparatory material, like how to punch and how to kick. It's not until you get into higher ranks that you really feel like you're doing Kempo. Master Santillo always says, 'It's not until you are a Black Belt that I can actually teach you anything.'"
Mike, 46, and Lisa, 44, lived three blocks from the Old Towne Alexandria studio in 2007 when Mike walked by and decided to sign up for an introductory lesson. He had always wanted to learn karate – getting a Black Belt was on his bucket list – and he knew he needed to get off the couch and lose some weight. Lisa had always been interested in learning some form of self-defense.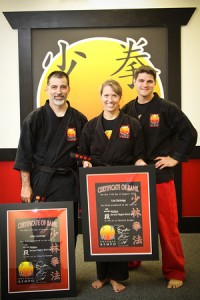 Initially, the couple was paired up to practice techniques. But when they were matched with other students, Lisa was a little nervous about practicing on someone else. Mike says he went into Kempo hoping that it would be an activity the couple could do together; his biggest fear was that Lisa wouldn't like it. But the training grew on them quickly, and six years later, both are second-degree Black Belts.
Mike, who played team sports growing up, has a number of old sports injuries and has had surgery on his knee and shoulder. So one of his goals with Kempo was to keep those injuries in check. With the workouts, he has lost 30 pounds, and keeping that extra weight off his knees has prevented additional joint damage. "A lot of what we do is core workout," he says. "I used to have a lot of back pain – probably from sitting at a desk – but as I build up my stomach muscles, my back pain went away." He also says that he is notoriously inflexible and uncoordinated, and the training has helped him in both areas.
Lisa was surprised by the amount of physical activity in the training – she expected it to be more technique. These days, she says she is more aware of her body, what it's capable of, and how to move her limbs so she can take advantage of them and avoid injury. In 2009 she walked out of the house and slipped on an icy sidewalk – one of those cartoon-like falls where your legs fly up into the air. But miraculously, she didn't hit her head, didn't land on her wrists, didn't break any bones and other than a few bruises, wasn't hurt. "I just slapped-out," she says, "like I learned in Kempo."
She also notices a difference in her confidence, now that she has the tools to protect herself if needed. "You never know until you're actually tested, but I definitely notice a difference," she says. "If I'm walking around at night, I used to feel a lot more paranoid or afraid that someone would come up behind me. I don't feel that way anymore."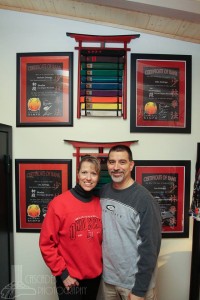 Mike has also seen benefits of the practice outside of the fitness arena. He says he has never been one to believe in karma, but his martial arts training – including the techniques and history – has made him think about things differently. "People who are serious about the practice are very big into respecting other people and respecting yourself," he says. "So it makes you rethink the way you live your life and
how you treat others. Now, if someone gives me too much change at the supermarket, instead of thinking, 'Oh! I won the lottery today!' I feel the tendency to go back and return it to them.
The couple doesn't train quite as often as they did in the early days – Lisa's job as a tax lawyer has required more time recently, and Mike, also an attorney, is busy with consulting work. But no matter how long it's been, they always feel at home at the dojo. In fact, they sometimes feel like the parents of the dojo, since most of the students are younger.
Mike and Lisa know that even as second-degree Black Belts, they have much to learn. "My bucket list was to get a Black Belt," Mike says. "Once I got to that, I realized how much I didn't know, and that's what kept me going. I know there's a lot of people out there who get to Black Belt, and they feel like they've accomplished the martial arts. I kind of feel the opposite." Plus, he says, he still wants to drop an additional 20 pounds.
Lisa says even with all the material they've digested over the last years, she'd like to keep training so the movements become more natural. "I'd like to get to the point where I don't have to think through my reactions, so the appropriate movements just come instinctively if there's an attack," she says. "There's always more you can learn."
Please follow us on. . .
. . . thank you!