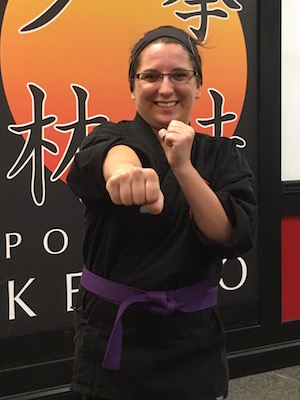 Benefits of Kempo Training
Kempo training over the past six months has benefited me greatly in many ways, both physically and mentally.  The highlights of the benefits I have experienced are an increase in physical stamina, decrease in aches and pains and a reduction in mental stress.
My physical stamina has increased dramatically.  My body feels fit and with that comes many pluses such as having more energy throughout the day and being able to complete physical tasks like yard work and heavy lifting with more ease and less strain.  My townhouse has three levels and fairly steep steps.  It is less difficult for me now to move the laundry up and down from the basement to the bedroom to do it.  Groceries are also easier to bring in from the basement level garage to the kitchen on the first level.  Since I am already a small person, it helps to build up more strength just to get these tasks completed.  I also feel as though I can play sports with more ease.  Kempo has given me the confidence I needed to get back into playing hockey with a work group on Monday mornings. Before I would make excuses and was afraid to join in because I did not have the stamina to keep up, but now I play with ease and enjoyment.
Another physical benefit that I have noticed is a decrease in general body aches and pains.  Since I have started Kempo my muscles have felt a million times better.  It is true that people, as well as myself, think that since their body hurts that they should avoid moving, but this just perpetuates the pain, because not moving makes you hurt more.  The key is to work through the pain and then it will eventually make you feel a lot better.  I don't consider myself achy anymore and the pain that I experience from a good workout is welcome and actually feels good.
Along with the physical benefits Kempo brings, it is responsible for mental benefits as well.  Exercise itself is a stress reliever, helping to clear the mind at the end of a work day as well as helping to keep the mind fresh throughout the days to come.  Kempo takes this one step further.  Because Kempo requires memorization and thought of movement, it helps the mind to focus on something other than the stresses that lay ahead in work and home life.  Having something to focus on that brings accomplishment and fosters goal setting are great ways that Kempo provides mental benefits.
I am very glad that I started Kempo and have kept up with it over these past six months.  I am also very excited about things to come as I continue my Kempo journey.