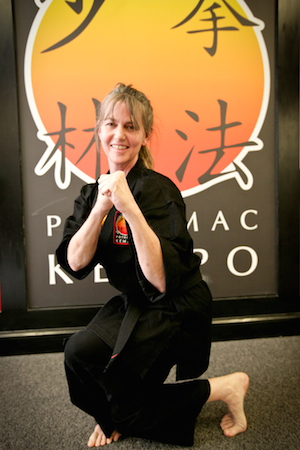 In 2006, when Cheryl was a busy working mother, she often found herself at the dojo – dropping off and picking up her son for class at Potomac Kempo. One day, Master Chris Santillo stopped her.
"When are you coming in?" he asked.
His question caught Cheryl off guard. All she ever saw at the dojo were the youth classes, and she had a hard time imagining herself in her son's class. "I didn't really think about adults doing karate," she says. And by that point, she had all but forgotten about a karate class she had taken in college, at the University of South Alabama.
"I decided to take that class as an elective, and I ended up loving everything about it," she says. "Then I got into physical therapy school, and I didn't have time for anything extracurricular. Then it was graduating, getting a job, having kids… And I didn't think about it again until my son showed interest."
Not too long before Master Santillo's question, Cheryl had been at her job – at a geriatric rehabilitation center in Alexandria, working with a physical therapy patient. They were working with the parallel bars, and Cheryl was on the floor. She went to stand up, and she had to pull herself off the floor, using the bar. "I felt so weak," she says. "I was looking for something to help change that."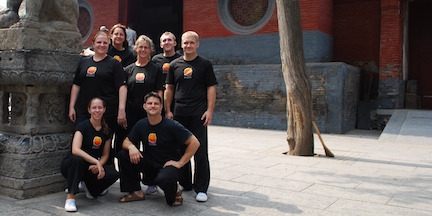 Once Cheryl realized there were separate classes for adults, she agreed to give Kempo a shot. " I forgot how challenging it was. My first group class, I did one push-up, and I thought I was going to die," she says. "And I realized, this is such a good idea. I don't want to end up like one of my patients when I am 80."
Now in her seventh year of Kempo, Cheryl, 50, is a second degree black belt. She looks forward to training and finds that the practice has benefited her in countless ways. She has never struggled with weight issues, but she knows that her balance, flexibility, overall muscle tone and posture have all improved. "I think I carry myself better," she says. "I definitely feel more confident."
She has even become more comfortable speaking in front of a group, thanks to all the practice speaking to students. "I was always terrified of that, and it has really improved," she says. I feel myself not getting red from the face up now."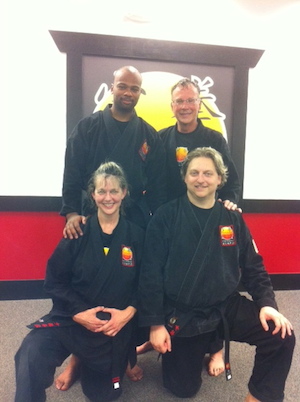 Kempo has also helped Cheryl manage her time better. She used to be a workaholic and had trouble getting everything done during normal work hours. Because nothing at her job was ever really finished, she would often stay late. Now, going to class is a priority for her. "I have to manage my day better to get there," she says. "And one of the things I love about it is that it's fun and doesn't feel like work – like going to the gym and doing the same old thing. I don't want to leave work and go do what feels like more work."
Cheryl's son – now 21 – made it to the black belt level as a teenager. In their house, the entertainment room turned into the family dojo – with swords, katanas, a punching bag and a makiwara board. On family vacations, they often practiced on the beach in the sand. When they went to Ireland last summer, Cheryl practiced her moves underwater in the pool and found that the water resistance offered a new challenge. "The Irish people didn't know what to make of me," she says, laughing. "But Sensei tells us that whatever you need to do can be done in whatever space is available. There is enough space in a hotel room to do a Kempo, no problem."
Cheryl goes to group classes three days a week, with instructor training and her private lesson on Tuesday and on Saturdays she teaches. Most challenging are the physical demands. "And that's a good thing," she says. "You want to try to take yourself to another level. But you have to be smart about it. I'm not 20 anymore… Everyone has to set their own goals."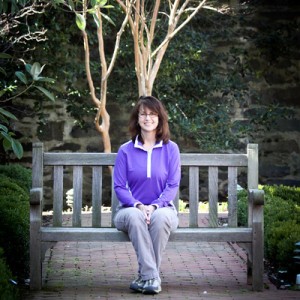 She says one of the reasons she gets excited about training is that she loves interacting with other students. Even though each persons' experience with Kempo is individual, Cheryl enjoys the camaraderie and says everyone is encouraging and supportive. The biggest misconception, she says, is that the sport is only for elite athletes or those in the military.
"It doesn't matter what your shape is," she says. "And no matter what your goal – confidence, weight loss or even speaking ability – it's a terrific sport. I'm just a normal average mom, and I can't believe where it has taken me."
Please follow us on. . .
. . . thank you!